http://mthoodpress.com/?vasilisa=Part-time-jobs-in-keller-tx&77f=a1 Part time jobs in keller tx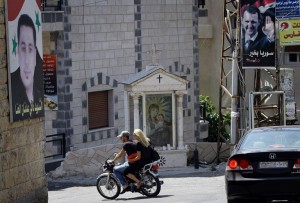 köpa viagra i sverige flashback
http://feltonveterinaryhospital.com/?olja=account-di-prov-trading-binario&f63=3d account di prov trading binario
http://www.superwebcomics.com/?warf=bester-broker-f%C3%BCr-bin%C3%A4re-optionen&6ff=de bester broker für binäre optionen
opzioni binarie con postepay puntate anche da 5 euro
binary trading demokonto ohne anmeldung
wie seriös ist der broker stockpair
His daughter Marta, 40, agreed.
"We urge the government to send the troops to protect us against armed men who are assassinating our children and our youths," she said, dressed in mourning black like her mother.
Issa Yazigi, whose son Soumer was also killed in the August 15 attack, said most residents have fled Al-Hosn and now the town is in the hands of jihadist fighters.
"The extremist groups threaten us and are trying to chase us out" of Marmarita, said Yazigi.
Syria's main opposition group, the National Coalition, has issued a statement urging residents to defend the "revolution" that is aimed at toppling Assad and his government.
"We urge our relatives on the coast and in the mountains… to show solidarity with the goals of the revolution to put an end to decades of despotism," the National Coalition said.
It also urged residents to be wary of "lies fabricated by the regime which pretends to protect minorities, while using them as hostages to defend the (Assad) clan."
Christians account for only five percent of the population in Syria, and many back the Assad regime because they fear the growing strength of jihadists whose aim is to set up an Islamic state in Syria.
The majority of rebel fighters — like the population — are Sunni Muslims, while Assad belongs to another minority sect, the Alawite community which is an offshoot of Shiite Islam.
Though it started in mid-March 2011 with peaceful protests calling for the fall of Assad's regime, Syria's war has grown increasingly sectarian and jihadists have flooded the battlefields.
"They've came, they've cut off roads. They, Al Nusra Front. They are scary," said the mother of Soumer Yazigi. "Too many of our youths have been killed. Enough! We want the army to protect us."
He husband insisted that "jihadists… are threatening to take over the valley."
Other residents complained that Marmarita's main street was constantly under fire from rebel gunners holed up in the Krak. "They open fire on us when we walk down the street," one said.