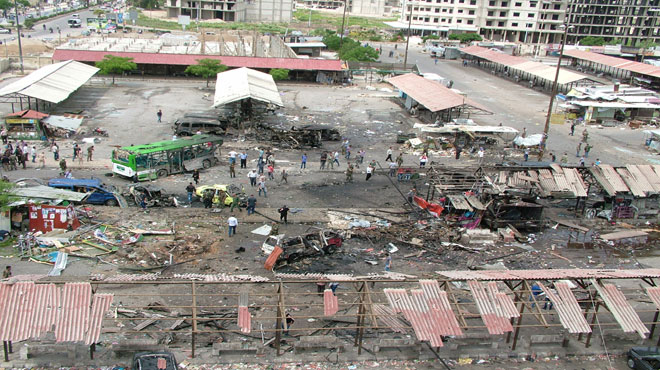 *note: since initial reports, the number of dead is now over 100.
May 23, 2016, SANA
At least 78 people were killed and scores, were injured, some critically, in a series of terrorist bombings that rocked the coastal cities of Tartous  and Jableh on Monday morning.
A source at Lattakia Police Command said that 45 people were killed and others, mostly women and children, were injured, in the terrorist attacks hit Jableh city.
SANA correspondent in Lattakia said that twin terrorist bombings targeted the main entrance of the bus station in Jableh city and another terrorist bombing happened near Jableh Electricity Directorate on the outskirts of al-Amara residential neighborhood.
A fourth bombing happened as a suicide bomber blew himself up at the entrance of emergency department at Jableh National Hospital.
In Tartous, SANA reporter said that three terrorist bombings rocked the province this morning leaving more than 33 people killed and 47 others injured.
The reporter added that a car bomb exploded at the bus station gate, while a suicide bomber blew himself up inside the station.
According to the reporter, another terrorist blew himself up in the residential suburb located in front of the bus station to the west of the city.
The bombings left huge material damage.
Hundreds of Lattakia residents and students from Tishreen University rushed to the blood transfusion center to donate blood for the victims of the terrorist bombings that took place in Jableh.
**

"Over 100 people are feared dead after seven blasts targeted several locations in the coastal towns of Jableh and Tartus, Syria's Latakia province."
**

**
May 23, 2016, SANA
The Cabinet condemned the terrorist blasts which hit cities of Jableh, Tartous, and al-Qamishli and the terrorist attacks, with mortar shells, on some areas in Aleppo, Nubbul, al-Zahraa and Daraa which killed and injured dozens of innocent civilians.
Prime Minister Wael al-Halaqi said, in a statement on Monday, that the escalation of terrorist actions in a number of Syrian areas comes upon orders form the terrorist organizations' backers and financers on top Qatar, Saudi Arabia and Turkey in an attempt to hide the victories achieved by the Syrian Army at all fronts and to raise the morals of the terrorists to achieve false victory on the ground.
Al-Halaqi affirmed that the coward terrorist actions, which aim at destabilizing the country, would not derail Syrians from continuing their daily life and taking part in rebuilding and enhancing the capabilities of their country as well as facing challenges.
The Prime Minister held the international community legally and morally responsible for those terrorist actions, demanding it to interfere and put pressure on the states backing terrorism which threatens the international security and stability.
He affirmed the government's care for combating terrorism, enhancing national reconciliation and facing the repercussions of the economic and media war which targets the national economy and the Syrian state.
One account. All of Google. Sign in with your Google Account. Enter your email. Find my account · Sign in with a different account Create account. Trying to get to gmail Login Here are 4 better, faster, and more secure ways you can get there 100% free.
Earlier in the day, a series of terrorist explosions hit the two cities of Jableh and Tartous claiming the lives of tens of civilians, while another terrorist blast hit the eastern city of Qamishli on Sunday leaving a number of civilians killed and injured.
Information Minister Omran al-Zoubi also condemned the terrorist bombings, affirming in a phone call with al-Ikhbariya TV that terrorist bombings, killing, assassination and targeting civilians reflect the nature of terrorist organizations and their escape from the real confrontation with the Syrian army.
What happened today in Jableh and Tartous reaffirms that terrorist organizations like Ahrar al-Sham, Jabhat al-Nusra and ISIS are groups of cowards and killers unable to confront the Syrian army, the minister said, adding that those terrorist groups should know that we will not forgive them and they will pay a high cost for their crimes.
Likewise, Religious Endowments (Awqaf) Minister Mohammad Abdelsattar al-Sayyed and Grand Mufti of the Republic Ahmad Badreddin Hassoun condemned the terrorist bombings, with al-Sayyed saying that these attacks show that Takfiri Wahabi terrorism targets all Syrians without distinction and aim at spreading strife and division, while Hassoun noted that Jableh and Tartous host over 1.5 million displaced people from various areas in Syria who had sought refuge in the two cities from terrorism.
In a statement, the Regional Leadership of Al-Baath Arab Socialist Party condemned the series of terrorist attacks that targeted civilians in Tartous, Jableh, Qamishli, and Deir Ezzor, saying that these barbaric attacks were carried out by terrorists upon receiving instructions from the Saudi regime to punish the Syrian people.