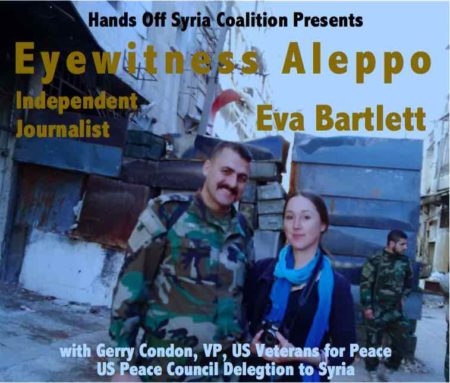 Independent Canadian journalist Eva Bartlett, newly arrived from Syria, will report on her experiences in Aleppo and elsewhere in Syria, as will US Veterans for Peace VP and member of the US Peace Council Delegation to Syria. You will definitely hear much that you have not heard elsewhere, and perhaps question what you think you know about Syria.  Eva lived in Gaza for three years and was one of the few western reporters present during the Israeli attacks that killed thousands of Palestinians.
Wednesday, Dec. 14, 7 PM
Trinity Presbyterian Church, 420 Melrose Ave., Santa Cruz, CA
Admission: $10-20 sliding scale.  No one turned away for lack of funds.
Thursday, Dec. 15, 7 PM
Humanist Hall, 390 27th St., Oakland, CA  (between Broadway and Telegraph, 19th St. BART)
$10-20 sliding scale.  No one turned away for lack of funds.
Friday, Dec. 16, 7 PM
Eric Quezada Center, 518 Valencia St., San Francisco, CA (16th & Mission BART)
Admission: $10-20 sliding scale.  No one turned away for lack of funds.
Saturday, Dec. 17, 7 PM
International Action Center Harriet Tubman Center for Social Justice
5278 W. Pico Blvd., Los Angeles, CA 90019
No admission charge, free will donations gratefully accepted
Sunday, Dec. 18, 5 PM
Private residence Brentwood (Sunset & Bundy)
Drinks and light food served
Organized by Mahmood and Reza Amin
Please contact 510-418-4485 or Event.info10@gmail.com 310-820-9400 ext. 103 for invitation and directions
Generously offered without charge by the hosts
Organizers, sponsors and co-sponsors: International Action Center (IAC), United National Antiwar Coalition (UNAC), US Peace Council, Syria Solidarity Movement, Socialist Action, Workers World Party, Islah Reparations Project – members of Israel Action Committee, ANSWER – SF Bay Area, Cindy Sheehan Soapbox, Mt. Diablo Peace and Justice Center, Peace and Freedom Party (Marin), Peace and Freedom Party (San Francisco), Project Censored, Media Freedom Foundation, Veterans for Peace East Bay Chapter 162, Arab Americans for Syria, Treasure Island Health Network
To add your group, or for more info: solidarity@ syriasolidaritymovement.org or (510) 418-4485.